Monday, September 21 2009, 15:36 BST
By David Balls, Music Reporter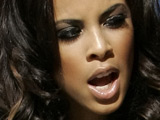 WENN
Saturdays singer Rochelle Wiseman was reportedly forced to secure her breasts using gaffa tape at a live show in Liverpool last weekend.
The 20-year-old allegedly ordered backstage staff to help with a wardrobe malfunction before performing a headline set at Juice FM's Big Night Out.
"Just before the Saturdays went on the main stage Rochelle was asking everyone backstage for "t*t tape" to hold her dress up," a source told DS.
"Rochelle said she brought a lovely new dress but obviously it was just a bit too big for her!
"Everyone was running around like mad flies to try and source some t*t tape. In the end one of the stage crew walked past with some black gaffa tape and Rochelle grabbed it out of his hand!
"She got herself sorted and then went on stage with the the rest of the band to headline the night like a true pro!"
The girlband previously admitted that they had been known to "squeeze each other's boobs".
The Saturdays release new single 'Forever Is Over' on October 5.
Source: Digitalspy
---