Saturdays: 'We look up to the Spice Girls'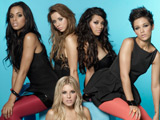 The Saturdays star Frankie Sandford has revealed that the Spice Girls are the group's biggest inspiration.
The singer confirmed that, despite touring with Girls Aloud last year, the girlband have learned more by studying the Spices' approach to music.
Discussing Girls Aloud, Sandford told the Daily Record: "We're quite different and as long as we are both making good music, it's fine. The girls told us not to get carried away with everything because it is easy to end up in a bubble and lose touch.
"Who we look up to as a band, though, are the Spice Girls. We do get compared with them a lot, which is a load of fun. Emma Bunton told me she really likes us which was such a compliment."
Meanwhile, Sandford's fellow band member Vanessa White added that the group are keen to make pop music "cool" again over the coming months.
"When we started, pop wasn't really cool. There was a lot of indie music, too much," she explained. "We were like: 'Where's the pop?' Pop is fun and has loads of energy. We want to bring pop back and make everybody like it again."
Source: DigitalSpy