Friday, August 21 2009, 10:52 BST
By Daniel Kilkelly, Entertainment Reporter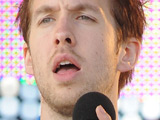 Rex Features
Calvin Harris has reportedly taken a swipe at The Saturdays for turning down one of his songs.
According to The Mirror, the chart-topper originally offered the girlband his 'Ready For The Weekend' single but was rejected by the group.
The tabloid quotes him as saying: "The thing is, being the guy who makes music and sends it out to people, eventually someone is going to say no. I offered it to The Saturdays but they didn't want to use it. Obviously they didn't have the vision.
"I've heard the Saturdays aren't that great live. I see they haven't developed live Auto-Tune yet – it must be in the works."
Harris has previously revealed that The Saturdays also turned down his 'Holiday' track, which eventually went to Dizzee Rascal.
Source: Digitalspy