Wednesday, September 16 2009, 17:48 BST
By David Balls, Music Reporter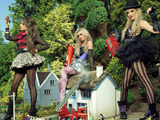 The Dolly Rockers have admitted that they regret criticising The Saturdays earlier this year.
The girlband, whose debut single 'Gold Digger' recently stalled at number 46, insisted that they were naive in dealing with the press and their comments were misinterpreted.
"That was one of the first interviews we did and we could have been a bit cleverer," singer Lucie Kay told In The News.
"It wasn't in a nasty way, The Times asked us if we'd compare ourselves to them and we said no because they were put together and we weren't. We're not saying they're rubbish."
Brooke Challinor added: "We thought every person we spoke to was our best friend and they'd understand how we come across in person, but the way one comment is written might be a lot different to the way it was said.
"We said we wouldn't compare ourselves to the Saturdays 'cause they're manufactured and we're not, but it was printed as us saying we were better than them.
"Which obviously we've got no right to say, they've got a year on us and we've not even had a hit."
The Saturdays singer Rochelle Wiseman blasted the three-piece as "chavs" following the original comments.
Dolly Rockers release new single 'Boys And Girls' next month.
Source: Digitalspy