Monday, July 27 2009, 18:43 BST
By Daniel Kilkelly, Entertainment Reporter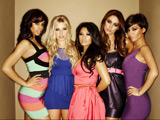 The Saturdays have admitted that they would lose out in a chart battle with Girls Aloud, Sugababes and Pussycat Dolls.
The girlband, who released their debut album Chasing Lights last year, insisted that they are not yet trying to compete with more established groups.
Bandmember Rochelle Wiseman told Virgin Media: "We're the queens of new girlbands – but we're not trying to ever rival Sugababes, Pussycat Dolls [or] Girls Aloud yet, because they've got such a big fanbase and it would be impossible."
Vanessa White added: "We'll call ourselves the princesses then, not the queens, because we're the babies."
The stars recently flew out to Los Angeles to start work on their second album.
They released their latest single 'Work' last month.
Source: Digitalspy