Monday, August 3 2009, 13:14 BST
By Mayer Nissim, Entertainment Reporter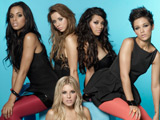 The Saturdays have threatened to go on strike in order to secure time off work, it has been claimed.
According to The Sun, the 'Issues' five-piece managed to secure two weeks' holiday after a standoff with their record label.
The argument was reportedly sparked by the company's decision to have the girls share hotel rooms and fly economy class.
A source said: "It's been non-stop for them for the last year and they have had enough. The album and tour were a success and they are bringing in loads of cash with endorsements.
"They feel it's time they were rewarded for all their hard work. They have a reputation for doing whatever they're told but now they are taking a stand."
Singer Vanessa White recently described her group as the "princesses" of girlband pop compared to "queens" Sugababes, Pussycat Dolls and Girls Aloud.
Source: Digitalspy