Monday, August 10 2009, 14:16 BST
By Mayer Nissim, Entertainment Reporter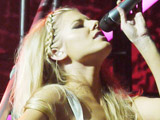 WENN
Mollie King has revealed that her friends are unsurprised to find her walking around the house naked when they visit.
The Saturdays singer said that despite being comfortable with no clothes on, she is not interested in exposing herself to the paparazzi, The Sun reports.
King said: "I am always walking around naked. When people walk in, they say, 'Oh God, Mollie's nude again'.
"I guess I'm not very British like that, although I wouldn't flash my pants to any photographers."
Earlier this year, King promised to "give GaGa a run for her money" with a "raunchy" video for The Saturdays' fifth single Work'.
Source: Digitalspy